Six-year-old Master Padmanabhan Nair, Grade 1 student of Birla Public School has set a series of records – World, Asia, and India.
Padmanabhan made it to the World Records of UK, Limca Book of Records, The India Book of Records, and The Asia Book of Records. 
This young genius is also slated to appear in the Guinness Book of World Records.
Padmanabhan made his parents proud for this wonderful feat of identifying the maximum number of dinosaurs (41 in a minute as well as 97 in 5 minutes).
Today this tiny tot measuring 125cms stands tall and can easily identify more than 130 names of dinosaurs without a flaw. Padmanabhan took a fancy for this extinct species when he chanced upon a story book that featured Dinosaurs. Ever since he has been pestering his Dad for more and more resources, which he happily provided and literally fanned the spark of curiosity and knowledge. By looking at the picture of a Dinosaur, this youngster can tell, whether its a 'reptile' or a 'bird' and other features.
Teachers, family friends and parents of Padmanabhan keep encouraging him to continue to learn more about the Dinosaurs and provide him with various books and materials about special species of animals, references from various websites, YouTube, consultation with Biology Teachers and department heads of Schools. 
The Principal and the faculty at Birla Public School are ecstatic about the achievement of their star student and are a great support in his continued journey into knowledge.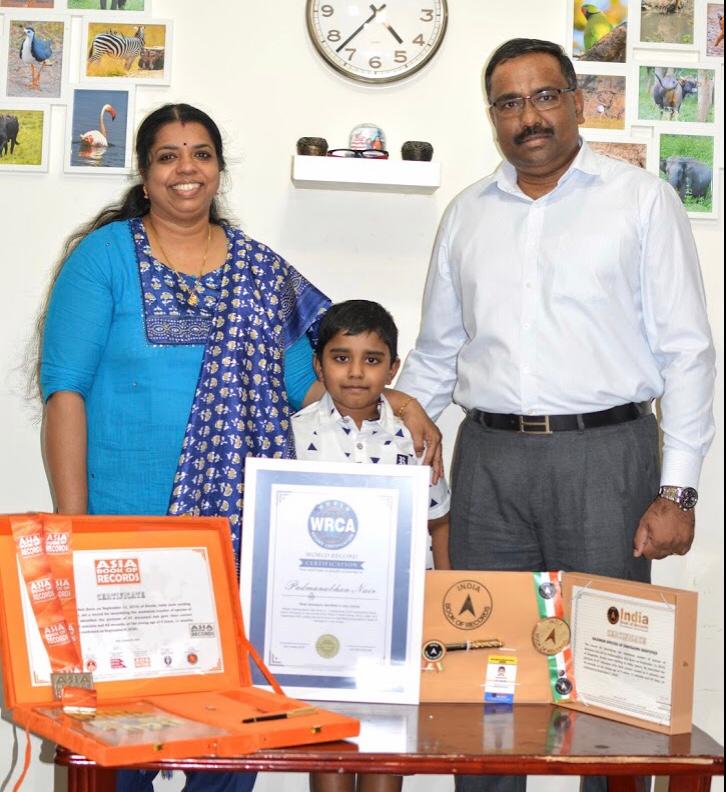 Padmanabhan's father Jayaprakash, works with Teyseer Services Company as Bid Manager and mother, Jyotilekshmi is a Mathematics Teacher. The family hails from Alleppey district of Kerala State, India. 
Sky is certainly not the limit for little Padmanabhan and his achievements will surely inspire other children for ages to come.